Embracing Proof of Stake, AI-Enhanced Security & More
Welcome to your August issue of Callisto Monthly, a look at what has been happening recently inside Callisto Network. In the dog days of summer, most of the European continent is on vacation. Still, the Callisto teams remain hard at work, building the safest, most secure network on the blockchain.
First up…
Debunking Proof-of-Stake Concerns Vis-à-vis the SEC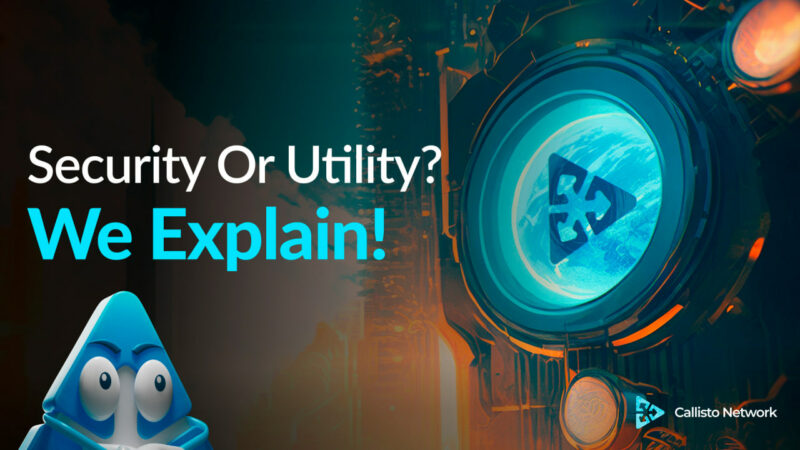 The U.S. Securities and Exchange Commission has been a thorn in the side of the crypto economy for the past year or so because of the numerous actions the SEC has taken against crypto exchanges, crypto banks, and various coins and tokens. Those actions have raised concerns about where Callisto falls along the SEC's spectrum running between a utility token and security.
We can confidently say that Callisto is a utility token and not a security that requires SEC regulation. We say that based upon the rules laid out in the so-called Howey Test, a U.S. Supreme Court ruling from years ago laid out the criteria that must be met for an investment to be considered a security. As per the Howey Test, security is one in which:
An investment of money or assets is made.
The investment is in a common enterprise.
 And an expectation of profit arises from the efforts of other people.
Those do not apply to Callisto Network. And that will remain the case as we move to Proof of Stake. Why? Primarily because with PoS, validators ensure transactions on the Callisto blockchain are legitimate and earn rewards for doing so. Thus, profits are not derived from a centralized organization, like a company, but from network participants' collective, decentralized efforts.
Moreover, Callisto never had an initial coin offering or ICO. We are self-funded; thus, no coins were ever sold on the premise of an "investment in Callisto Network."
Finally, Callisto is now building a DAO, which will add yet another layer of separation between Callisto Network management and the community of coin owners. The DAO will allow stakeholders to vote on how funds are allocated, meaning there is no centralized authority that coin holders must rely on.
Instead, Callisto is a utility coin for these reasons:
It's used within a specific blockchain ecosystem (Callisto Network) to provide access to products or services without conferring any type of ownership rights in the company, meaning coin holders are not shareholders who proportionally own part of the company in which they're invested.
 The coin's main function is not to serve as an investment. However, it's possible that the value of a coin could increase over time for a variety of reasons.
 Callisto's coins do not represent ownership in an underlying company and have no claim on the company's profits.
As such, it's very clear that based on the SEC's own guidelines, Callisto is a utility token and not a security. You can find the CallisTalks video that Tonton and Dr. ZS put together on this subject if you'd like to watch it here.
Security has always been priority #1 at Callisto Network. Now, we're combining it with enhanced energy efficiency as the crypto industry increasingly seeks ways to reduce its carbon footprint. To that end, Callisto is transitioning to a Proof of Stake consensus protocol, a far more eco-friendly technology.
The functional difference here is that miners will no longer need to run mining rigs based on power-hungry graphics cards to solve equations and earn rewards based on who solves the mathematical riddle first. Instead, CLO owners will stake their coins and share proportionally in the rewards. Validators wanting to earn more rewards will create more nodes—requiring more $CLO—which, in turn, increases network decentralization and security.
This transition, however, requires that we create a Monetary Policy with appropriate economic incentives. That effort has two goals: fair distribution of rewards among validators and increasing both network security and decentralization.
As such, Callisto is scrapping the previous rewards system that distributed a set number of $CLO per block. Instead, the network moves to a Dynamic Monetary Policy that rewards up to a maximum amount per block but does not necessarily emit the maximum, depending on validator activity.
You can read a more in-depth take on this paradigm shift underway here.
Speaking of Proof of Stake…
The Callisto Secret Sauce Behind PoS

If you've been associated with Callisto Network for more than a minute, you know we are in the process of transitioning from Proof of Work to Proof of Stake.
We're making this move for two reasons: Reducing our impact on the environment and strengthening network security.
Because Proof of Stake does not require energy-intensive mining to secure the network and unlock new coins, we can sharply reduce the power consumption needed for running the network.
As for security, "validators" become the new "miners." That enhances security for a couple of reasons:
First, an attacker would need to control over two-thirds of all validators to take control of the network. Given the cap on the number of coins a validator can stake, an attacker is highly unlikely to achieve the necessary computing power to succeed.
Second, an increasing number of validators will make the network increasingly secure. We've assured that by making a structural change to the Callisto monetary policy to encourage more validators. 
Our plan: The lower the number of validators, the lower the number of coins emitted. Conversely, as the number of validators grows, the number of new coins emitted increases. However, the APR reduces as more validators sign on so that the network maintains a balance.
In terms of security, the more validators that exist, the more secure the network. Validators who wish to stake more Callisto coins need to create a new node, and each new node strengthens the network.
For a longer take on this, hop over to the Callisto YouTube channel and tune in to CallisTalks 13.
Next up…
AI and Smart-Contract Security

AI is simply everywhere these days. Whether you're trying to modernize the Mona Lisa or pretend you didn't plagiarize a college research paper, you can't sneeze these days without AI offering you a digital tissue.
In CallisTalks 15, Tonton talks to Dr. ZS about how AI and Machine Learning play a significant and growing role in crypto security. As Dr. ZS points out, the technology is not a panacea, and it will replace the traditional auditing process; however, "they can be used in tandem with audits to enhance the real-time security monitoring of smart contracts."
That's because AI significantly improves decision-making speed and efficiency, and that's especially useful in smart contracts, given how critical these on-chain contracts are to the crypto and NFT space, and given the number of high-profile hacks that have occurred because of security vulnerabilities in smart contracts.
For a deeper understanding of how AI works to improve smart-contract security, listen to what Dr. ZS has to say about it.
Moving on to…
From AI to a Game-Changer Supercharging the Blockchain

Callisto is continually evolving, and that's apparent in our move to bring 5G and Edge Computing into the network to increase transaction speed and enhance its overall performance.
5G, as you likely know, is the latest advancement in wireless telecom technology. It offers far faster data transfer rates of up to 20 Gbps while offering ultra-low latency. It's the technology that will allow broader use of autonomous vehicles, explosive growth in Internet of Things adoption, highly accurate and real-time inventory management, and much more.
Edge Computing, meanwhile, is already widely in use and will expand further in autonomous vehicles, smart grids across municipal utilities, and so many other use cases.
At Callisto, we're looking to bring both technologies into our Proof of Stake evolution. Doing so will speed up network transactions and reduce latency. Though there are some potential node constraints, Dr. ZS explains in CallisTalk 16 that we are looking to address those limitations in a way that would, as Dr. ZS says, "push the bounds of decentralization."
Next…
Moon Day 2023

The past has been eventful here at Callisto Network: New CEOs, the move to Proof of Stake, and so much more.
In our Moon Day 2023 video, we take you through our achievements for the year—from blockchain security to smart contract audits.
And we lay out the upcoming milestones we're chasing for 2023.
Our aim is the moon, but when fully expected to shoot well beyond the moon as we accomplish the goals, we've set out to make Callisto the strongest and more secure network on the blockchain.
The Write Stuff

It's Call to Impact time, and Callisto is looking for a few good writers.
We want you to write an original and compelling article about an exciting aspect of Callisto Network that resonates with you. We'll read them all and the winning entries will be published on Callistonians' Medium page. Moreover, the winners will receive 150,000 $CLO for their efforts.
We've already picked three winners so far:
A Tale From the Crypto Wild West

: The captivating saga of crypto desperados navigating the Bear Market while highlighting Callisto

Network's resilience and future prospects.

 

The Investor's Insight: Why 100,000 CLO Should Be Your Next Move!

: An insightful journey illustrating why owning 100,000 $CLO coins might be a savvy investment move. It paints a promising picture of Callisto Network's future in Blockchain security.

 

Building Your Crypto Empire: 5 Ethereum, 500 Ethereum Classic, and 500,000 Callisto Network

: A reflection on the importance of a solid investment strategy, the risks associated with chasing meme coins, and the potential of Callisto Network.
If you want to participate with your own story, head over to the Google Form we've set up. You can submit your story there.
Up next…
Zealy Campaign Winners Announced
We're thrilled to reveal the winners of our Zealy campaign!
You can find the list of winners here.
Thanks to everyone who participated!
Moving on to…
Why The ERC-20 Standard Is a Risk to the ETH Network

Callisto's Security Department has released a statement regarding a well-known design flaw in the widely used ERC-20 standard.
In short, the standard can result in permanent loss of funds for end users – a critical security flaw.
Our Security Department, under the leadership of Dexaran, explains the design flaw in a statement you can read here. This is important reading to understand the risks inherent in ERC-20, the most widely used standard on the Ethereum blockchain.
Now, let's turn to SOY Finance.
Slothiverse Goes Next-Gen

SOY Finance has introduced a new user interface that aims to simplify your DeFi journey through the Slothiverse.
The launch of the Next-Gen UI dApp marks the debut of our upgraded SOY farms. The upgrade is designed to bolster yield farming returns on SOY Finance and ensure its sustainable future. Among the benefits:
Boosted NFTs Mechanism: An innovative way to increase rewards for long-term users.
Decentralized Insurance Integration: Emphasizing safety in the world of DeFi.
Rainforest Referrals: Building the SOY Finance community with an engaging referral program.
Burning Fee Introduction: A critical step towards ensuring sustainable tokenomics.
You'll find the new interface here.
Finally, we end on a note about…
Absolute Wallet—the Speed Demon

We've optimized our Software Development Kit (SDK) to supercharge the wallet generation function. Meaning: A super-fast and more efficient experience for you.
This effort underscores our ongoing commitment to continually enhancing and evolving Absolute Wallet. 
With that, we wrap up our monthly review of all the improvements taking shape inside Callisto Network and its family of projects.
Enjoy these final days of summer.
Curious about the latest happenings at Callisto Network?