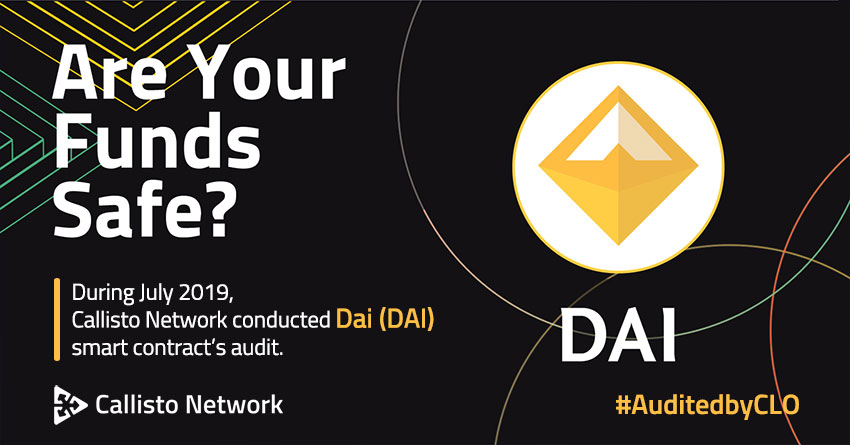 Dai Token (DAI) security audit, conducted by the Callisto Network Security Department in August 2019.
---
Dai Token (DAI) Specificities
Audit Request

Audit Top 200 CoinMarketCap tokens.
Dai (DAI) stablecoin.
Symbol      : DAI
Name        : Dai
Source Code:
https://etherscan.io/address/0x89d24a6b4ccb1b6faa2625fe562bdd9a23260359#code
Disclosure policy
Public
Platform:
ETH
Number of lines:
238
---
Dai Token (DAI) Smart Contract Security Audit Report
Are Your Funds Safe?
---
1. In scope
2. Findings
In total, 4 issues were reported including:
3 low severity issues.

1 owner privileges (the ability of an owner to manipulate contract, may be risky for investors).
No critical security issues were found.
2.1. Known vulnerabilities of ERC-20 token

Severity: low
Description
It is possible to double withdrawal attack. More details here
Recommendation
Add the following code to the transfer(_to address, ...) function:

require( _to != address(this) );
2.2. Blocking transferring

Severity: owner privileges
Description
The contract owner allowed to block transfer functions( transferFrom, approve, mint, burn).
Code snippet:
2.3. ERC20 Compliance — event missing
Severity: low
Description
According to ERC20 standard when coins are minted(or burned) a Transfer event should be emitted.
Code snippet
2.4. Checking input addresses
Severity: low
Description
Incoming addresses should be checked for an empty value(0x0 address) to avoid loss of funds or blocking some functionality.
Code snippet
setOwner function (lines 129-135)
transferFrom function (lines 390-405)
3. Conclusion
The audited smart contract can be deployed. Only low severity issues were found during the audit.
4. Revealing audit reports
https://gist.github.com/yuriy77k/bf2ea7c611b07073262d216d05de3b30
https://gist.github.com/yuriy77k/8cc19398ee91c3dd236f30a5b91c2d97
https://gist.github.com/yuriy77k/fbdccd8b26e383f9592153263f1a7c4e
Appendix
Smart Contract Audits by Callisto Network.
Miscellaneous
Our Most Popular Audit Reports.
---
Trust The Blockchain, Audit Your Smart Contracts.
---
Follow Callisto's Security Department on Twitter to get our latest news and updates!
Published on September 16, 2020